Exclusively woven in Huddersfield, England by Hardy Minnis.
Worsted Alsport II, a comprehensive, all-new collection of smart 'Town Tweeds' equally at home in the city or the country.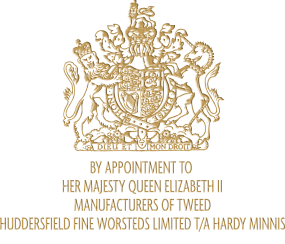 Inspired by our original Worsted Alsport range, this new collection has been created by the UK's most sought after textile designer, Nigel F. Hardy, a descendant of legendary woollen merchant, John G. Hardy of London, featuring exciting new mouliné grounds, more vibrant deco colors and contemporary styling appropriate for today's clothing silhouette.

IIts versatile 12 oz./ 370 g weight makes it comfortable to wear practically all year round, and its crisp finish, two-ply twist construction and robust handle provide superior performance, ideal for jackets, suits, trousers, vests, lightweight outerwear and even caps.

We are delighted to add Worsted Alsport II to our extensive library of iconic Made in England cloth collections, and believe it will quickly become the new classic in signature British 'Town Tweeds', an essential part of the modern wardrobe.