The History of Gladson New York
SINCE 1948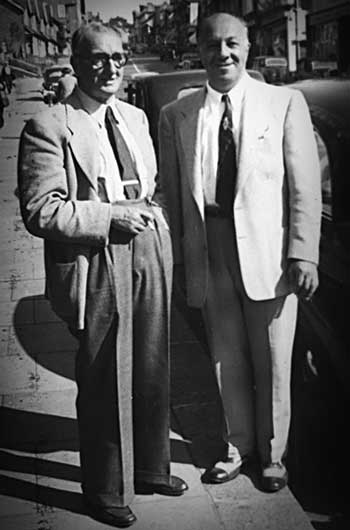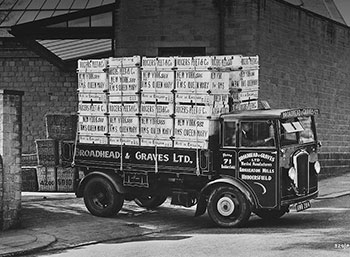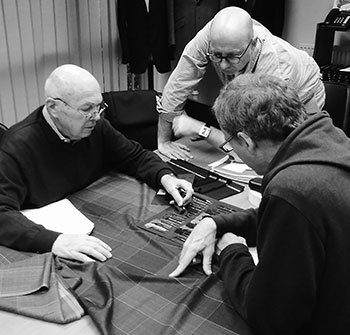 Although Gladson Ltd. as it is known today officially began as Gladson of England in 1948, the company has a rich heritage dating back to the late 1930's. It was then that Benjamin Solomon and his four brothers were smoking cigars (in pre Cigar Afficionado days) and selling English fabrics to wholesale manufacturers from several warehouse locations on 4th Avenue in Manhattan.

The name Gladson was derived from a combination of Ben's wife's name, Gladys and the word "son", although it would be several years before their sons Herbert and Mickey would join the company. Meanwhile, in the late 40's and early 50's all of the goods being sold were from a group of English mills, mostly located in Huddersfield. These were primarily worsteds, but in the late 50's and 60's the mohair craze hit.

Gladson sold English Mohair available in piece dyes and in compound color top dyes that people referred to as cross dyes. But it was the black mohair that was everyone's best dress suit. Pictures from that era of entertainers like Frank Sinatra and other members of the Rat Pack show them wearing their shiny mohair suits with narrow lapels, skinny ties and narrow straight leg pants.

It was during this time that the Solomon sons joined the company after completing their degrees in Textile Design; Herbert in the 1950's with his younger brother Mickey coming on board in 1960. The company was still operating from Park Avenue South.

In 1962, the company moved its wholesale business, then under the name of Langholm Worsted Company to the Sperry Rand Building at Avenue of the Americas and 52nd Street. This was "the" location for textile mills and agents and menswear manufacturers. Now that the Solomon sons were in the business, Gladson changed the name of its cut business to Herbert Gladson Ltd. & Son and opened up a retail store right down the street at 16 East 52nd Street.

From this choice midtown location near Saks Fifth Avenue and other fine stores, they serviced the tailoring business and attracted an affluent international retail customer, selling fabrics for both men's and women's garments. This building was the home to a number of custom tailors as well: Bernard Weatherill, Scali and Baletta to mention a few.

In 1972, the company moved its retail and tailor business to 45 West 45th Street where it remained in operation until 1982, when it closed the store and opened a warehouse in Hackensack, New Jersey to service its growing cut business with the tailors. The warehouse also was needed to accommodate stock programs for the wholesale business, operating under the name of HMS International Fabrics Corporation since 1974.

Fast forward to 2001. HMS moves its wholesale showrooms to the prestigious Crown Building at 57th Street and 5th Avenue and more recently next door to 720 Fifth Avenue. The Gladson warehouse relocates to a state-of-the-art distribution center in Secaucus, New Jersey.

In 2009 HMS International purchased Huddersfield Fine Worsted in the United Kingdom. Huddersfield Fine Worsteds incorporates many of the most famous historical British fabric companies including Broadhead & Graves, Josiah France, Learoyd Brothers, Martin Sons & Company, and W E Yates as well as merchants John G Hardy, Hunt & Winterbotham, and J & J Minnis. Today, fabrics are exported worldwide to countries including Japan, The United States, Germany, France, Italy and the Middle East.

The company that began life with five brothers in a smoke filled office in the 1930's now has offices in England, Canada, China and India. In addition to the suiting fabrics originally offered 75 years ago, the company now stocks and sells shirting and lining fabrics as well and also offers an haute couture line of women's fabrics that are stocked in Europe. Though English mills remain an important source for Gladson, one cannot deny the huge importance of its Italian connections with many prestigious Italian mills.