Crown Classic

Woven in England exclusively for Hardy Minnis
Since the creation of tailoring on Savile Row in the 1840s, tailors have demanded fabric that epitomizes quality and tradition.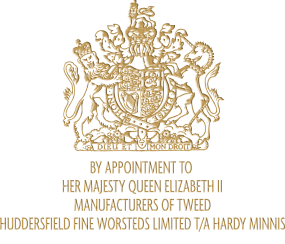 The Crown Classic name has been used for decades to promote our most honest traditional suiting cloth. If you are looking for structure and formality in a business suit the new Crown Classic offers the perfect weight in which the wearer will feel comfortable and smart. 12 oz. - 13 oz. fabrics remain the best all round weight of fabric and continues to be the go to choice for Savile Row tailors. Woven in Huddersfield, England this well sett cloth gives excellent drape and helps create a structure that makes the suit appear both clean and professional.

This beautiful fabric is effortlessly wearable and extremely versatile. So whether the wearer wants to appear as a style-conscious gent or a flamboyant City banker there are patterns for all.

Crown Classic remains the epitome of British elegance, with timeless appeal, "when only the best will really satisfy".